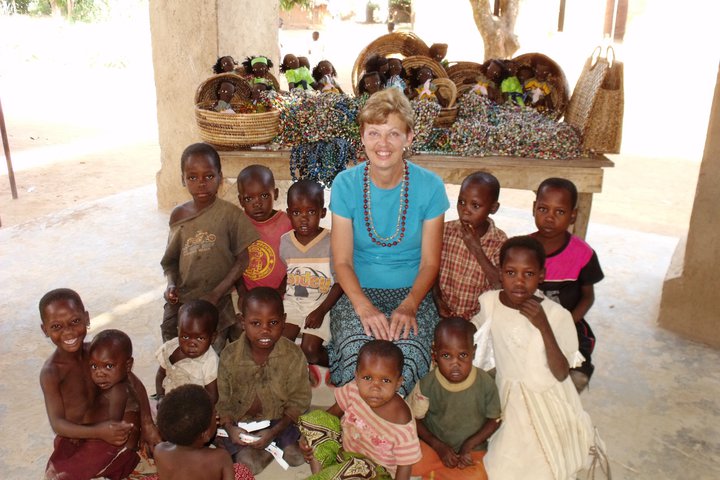 When I arrived in the remote village where the Project Lydia women live, I was overwhelmed and almost tackled by the greeting I received from 38 excited women. They were anxious to hear reports of how their work was being received in America. I told them of many of the places and homes that we set up their products, and how people just love what they are making. I told them that we had 3 newspaper articles written about us, that we had one television interview, and that we were in Shape magazine's website. I told them how encouraged I was by the response and that we were nearly sold out of some styles of necklaces, and that now, we needed to get back to work. They cheered almost uncontrollably!
I asked the ladies how Project Lydia has helped them, and I listened to stories of hope. Some were now sending their children to school for the first time. Some are just relieved that they are able to feed their families some nourishing food. Some were helped with emergency medical attention, and some have increased the sizes of their gardens or bought a goat or a cow for milk for their children.
We in America have no idea of the impact you have on women and their children half a world away when you purchase a Project Lydia necklace or basket. Sometimes it's a matter of life or death, when a Mother can now purchase life saving malaria medicine for her very sick child.
So I say a BIG Thank You to all of you who have supported these women and children through your Project Lydia purchases. It has truly restored hope, purpose, and dignity to many lives.
With Gratefulness,
Julie Pash, Founder
Project Lydia
PO Box 3321
Lawrence, Ks 66046
www.projectlydia.org
Remember Project in your year end donations. We accept charitable contributions under the IRS tax code of 501c3.
Project Lydia will have some new and exciting colors coming out for your spring purchases. You have requested bracelets!! Now Project Lydia women will be adding bracelets to their line of beautiful necklaces and earrings. Look for them in February and early March.